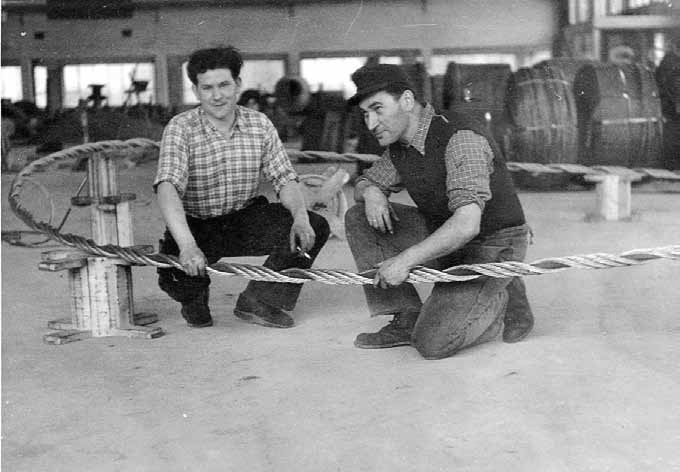 History of Huck – over 50 years of being passionate about nets and ropes
It all began in a garage with the idea of producing a few handknitted nets for football goals. Now, 50 years on, the Huck Group produces netting and rope products for all conceivable applications. Our innovative products and technologies set standards and have made us one of the leading companies in Europe's net industry.
Founded in 1963 in Asslar-Berghausen by Manfred Huck, the Huck Group is a family business whose passion and entrepreneurial spirit is evident to this day. We accept the challenge of meeting market requirements and demonstrating creativity as we continue to develop our company.
History at a glance
| | |
| --- | --- |
| 1963 | Company established as a one-man business by master ropemaker Manfred Huck, based in Berghausen ( in the district of Wetzlar) under the company name "Manfred Huck". The company's product range comprised handmade sports nets and ropes. |
| 1964/65 | The first employee was appointed and a production shed built. |
| 1968/69 | The product range is extended to include construction safety nets and climbing nets for playgrounds. |
| 1973 | The second production facility opens. The 20th employee is appointed. |
| 1976 - 1982 | Additional production facilities are completed. Increasingly the net division focuses on customer-specific net products. |
| 1986 - 1989 | The first foreign agency is set up in Austria by Berger. Other foreign branches are established in Europe. |
| 1990/93 | The manufacture of climbing nets is outsourced. A separate company, "Huck Seiltechnik", is set up in 1993, changing us from being solely a climbing net manufacturer to a manufacturer of rope play equipment. |
| 1991 | Sächsische Netzwerke Huck GmbH is set up to make basic netting, and knotless safety nets for personal protection are launched onto the market. |
| 1993/96 | Sächsische Netzwerke's production facilities expand to around 10,000 m2 and embark on fibre production. The product range gradually switches to knotless warp knitting. |
| 1999 | Manfred Huck dies aged 63, leaving behind a worldwide group of companies and a staff of 250. His son, Stefan, takes over the company. |
| 2000 | The production facility in Asslar Berghausen is expanded and standard manufacturing developed at the Huck CZ plant in the Czech Republic. |
| 2003 | Celebrating the 40th anniversary of Manfred Huck GmbH and the 10th anniversary of Huck Seiltechnik GmbH. |
| 2006 | Huck Seiltechnik builds a production facility to extend its production with a new generation of adventure towers that includes the "Cheops Pyramid". |
| 2009 | Valentin Huck joins the company's executive team. |
| 2010 | Manfred Huck GmbH expands its logistics division with a modern high-rack warehouse. |
| 2011 | Sächsische Netzwerke celebrates its 20th anniversary by opening a new production facility. |
| 2012 | Another facility is added to fibre production in Heidenau. |
| 2013 | Celebrating the 50th anniversary of Manfred Huck GmbH and the 20th anniversary of Huck Seiltechnik GmbH. |
Yesterday, today and tomorrow
Today the company Huck stands at a high point in the 50-year history of the Huck company. The fact that it is a success story is thanks to the groundwork of founder Manfred Huck and his foresight, but also due to the energy exerted by employees and partners. By working to the maxim "You don't achieve anything unless you try", problems became tasks. Energy reserves were and are still being mobilised so that the company remains an organic object which lives on.